E-transaction or digital bank document - What is the difference between the two, and what is the purpose of the data recorded?
Both of the above terms are frequently used, principally in connection with standards and products offered by different service providers; it is therefore worth taking a look at the differences in detail.
E-transaction
With e-transactions, banks provide the details of a transaction in the form of a digital file that sets out all the individual details of a transaction. Specifically, this means that, for example, with the purchase of securities, the file will include not just the total amount of a transaction, but also a breakdown of individual items, such as broker's commission, charges, value of securities purchased, etc. As a rule, e-transactions are fed into an accounting or portfolio management system, where they are then available for further use.
Example of an e-transaction: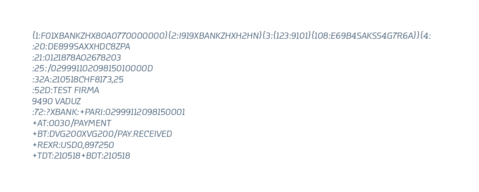 One difficulty with processing transactions using this method is the fact that all banks have different solutions, and setting up the data stream is therefore very time-consuming and costly. The aim of the new "OpenWealth" initiative is to define a standard that will be equally supported by all banks.
For processing e-transactions, CSL Corporate Services Est. cooperates closely with FDS Financial Data Services AG, which undertakes full processing of transactions and posts them to a portfolio management system or as completed financial accounting entries. This saves accounting administrators vast amounts of time, enabling them to spend more time focusing on client relationship management.
Digital bank documents (e-documents)
An e-document involves the processing of a paper bank document in the form of a pdf. Importantly in this case, there is no need to access the e-banking system on a daily basis in order to download the digital bank document. Ideally, the e-document should be available through a fully-automated process, for instance through a secure SFTP link to the bank. It is therefore vital that indexation of the document is also an automatic process. In the past, data was often read using so-called OCR profiles and then completed manually. Today, this is largely no longer necessary. The banks provide reference data comprising information such as account number, document data, transaction type, currency and amount.
Here too, the fact that all banks offer different solutions presents a challenge, as for the client, this creates a very time-consuming implementation process. This is where the product CSL Bank Unifyer comes in. Over the past few years, numerous banks have been successfully integrated into the product; clients benefit from the experience thereby gained, and are provided with any modifications made by the banks in the form of periodic updates.
Are both forms of bank data actually necessary?
Depending on client requirements, the answer to this is YES. If a client wishes to set out transaction details in a PMS system, or if they require financial accounting, it is important to take advantage of the benefits of e-transactions. Posting entries via digital documents is too time-consuming. For clients without such requirements, an e-document is sufficient.
It is important for clients to define their requirements and, using these as a basis, to work together with a suitable partner on generating an implementation concept. With our professional expertise, CSL is gladly at your disposal, offering analysis and solutions for both options.